This section features a range of existing thermoregulation case studies for building facades that already exist in our built environment. Largely non-biomimetic in nature, these case studies are classified by familiar design interventions and the thermoregulation functions they solve. 
"
Despite the changed technological, cultural, and economic parameters, the principal task of architecture is the creation of habitable and comfortable spaces." 
Permeable Facades
Perforated building skins creating a way for ventilation and filtered light. 
Termitary House 
Location: Vietnam
Architect: Vo Trong Nghia
Status: Built
The building is constructed like a lattice screen; with brick crossed and fastened together with square spaces left between which allows for air to flow in and out of the house via cross ventilation creating a natural air conditioning mechanism. 
Keywords: brick facade/lattice screen/naturally ventilated/natural lighting/ perforated brick walls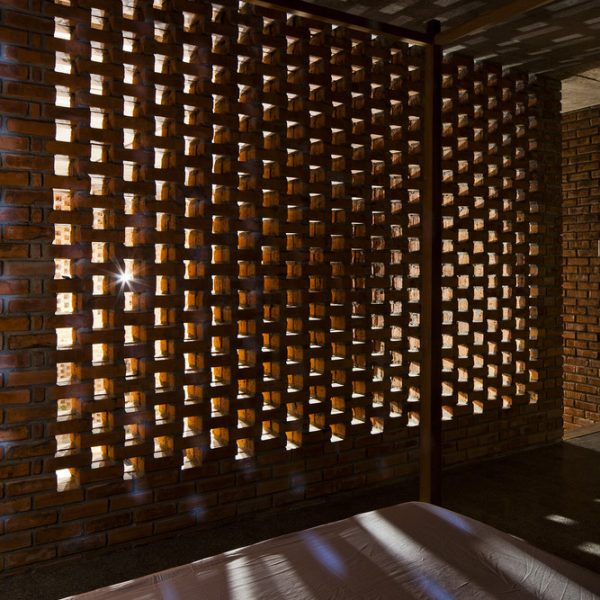 Evaporative Cooling Structures
Facades systems that use cooling properties of water vapor to absorb heat from the incoming air.
CoolANT Facade
Location: India
Architect: Ant Studio
Status: Built
The terracotta clay pots were designed with the inspiration of the structure of beehives, the large surface area maximizes the cooling effect all while being sustainable. The water running on the surface of the cylinders cools the hot air that passes through the clay pots.
Keywords: plug-in facades/ terracotta/ porous/ Hygroscopic/symmetrical geometry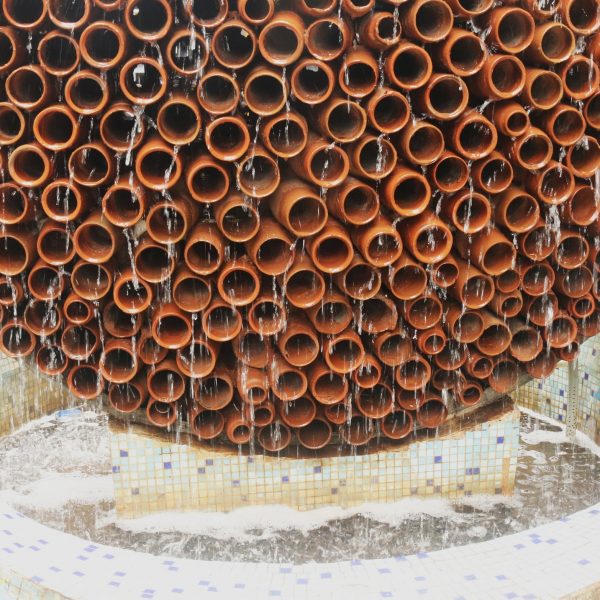 Passive ventilation Structures
Air is exchanged in the building through openings in the building envelope using the stack and wind pressures
Caledonia Cultural Centre
Location: Caledonia
Architect: Renzo Piano
Status: Built
Comprised of rounded, airy shells emanating high-rise ventilation – a solar chimney (a passive cooling system that can be used to regulate the temperature of a building as well as provide ventilation). The interrelated clustered buildings are inspired by the layout of the traditional Kanak villages. 
Keywords: porous structure/ solar chimney/ high rise ventilation/ rounded airy shells / kanak inspired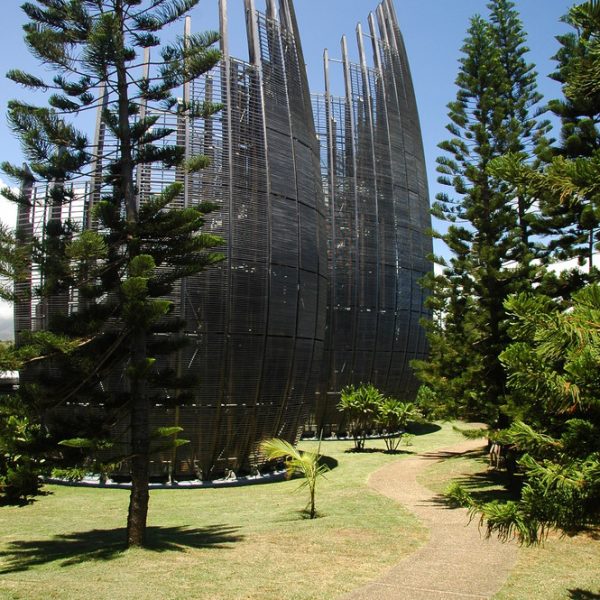 Photo by Flickr/Saturnino
Sun tracking Roofs
Building facades intentionally designed in response to sun, intended to control solar heat gain.
The Esplanade
Location: Singapore
Architect: DP Architects + Michael Winford & Partners
Status: Built
The roof is covered with panels that are fixed in a grid structure based on the sun's path, they reflect the sun's rays and retain heat during the day, allowing thermal comfort. The rooms are made of reinforced concrete for acoustic insulation 
Keywords:
panels/ sun orientation/aluminium panels/ grid structure/ thermal comfort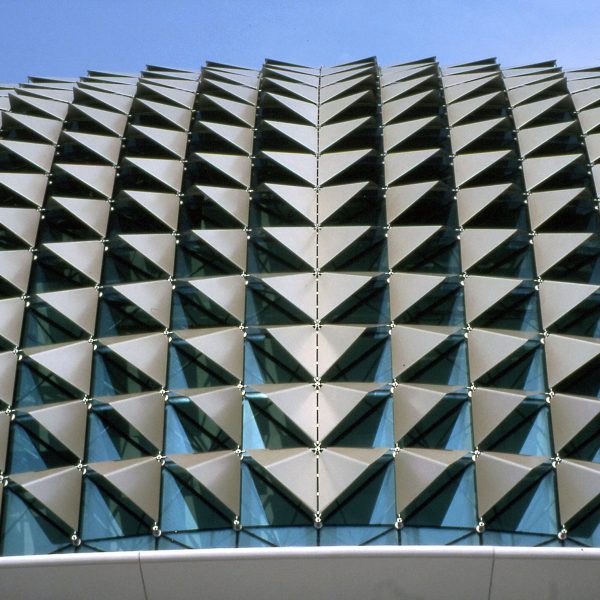 Self-shading Structures
Emphasised forms integrated in the structure are specially designed to cut out harsh sunlight. The buildings "self-shade". 
The ARC at Green School
Location: Bali, Indonesia
Architect: IBUKU
Status: Built
An intersecting bamboo design constructed from anticlastic (having opposite curvatures at the same plane) grid shells. The structure is composed of a series of porously connect- ed pavilion-like enclosures, which overlap to allow sunlight and provide shading for the occupants.
Keywords: orientation/ shading/ tensioned anticlastic grid shells/ shape stiffness/ state of equilibrium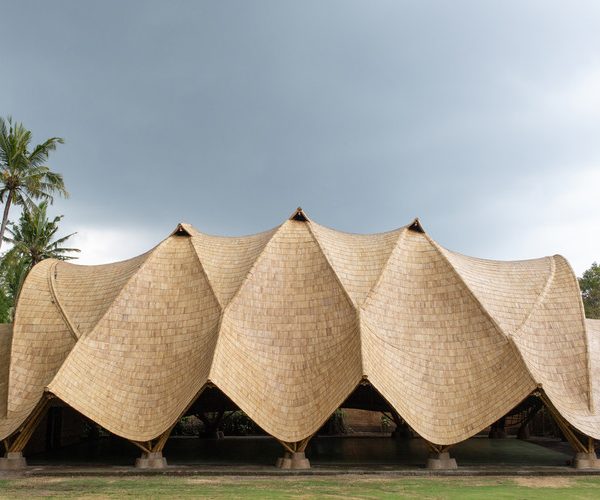 Double skin façade
Double facades provide a barrier for the air to move in, while the internal building is protected from the harsh rain and sun.
OASIA Hotel
Location: Singapore  
Architect: WOHA
Status: Built
The Oasia Hotel's porous aluminium mesh cover allows the integration of biodiversity within the facade and creates a "green skin." The openings allow for ventilation, keeping guests cool inside 
Keywords: trellis skin/Cross Ventilation/ greenery/ natural light/aluminium mesh cladding 
Photo by Patrick Bingham-Hall
Net Zero in the Tropics
Energy-saving solutions using conventional form making combined with best practices of facade design using established methods and cutting edge cooling systems. 
Interventions used: Permeable facades, Passive ventilation, Self-shading structures
School of Design & Environment 4, National University of Singapore
Location: Singapore
Architect: Serie x Multiply Architects
Status: Built
Operational since January 2019, SDE4 at the National University of Singapore is Singapore's first new-build net-zero energy building. It is a prime example of how sustainability doesn't need to look funky. Conventional forms can be highly functional and effective. 
Energy efficiency at SDE4 is achieved by optimizing the use of solar energy, efficient cooling systems and natural lighting and air for tropical living to name a few approaches.  It's large overhanging roof hosts more than 1,200 photovoltaic panels that harness solar energy. It also features an innovative hybrid cooling system that supplies 100 per cent fresh pre-cooled air at higher temperatures and humidity levels than in a conventional system, and augments this with an elevated air speed provided by ceiling fans. Buffer spaces are set behind a screen of wavy, perforated aluminium panels that allow natural light and air to permeate through the building.
Keywords: Net Zero/ Shading/ Solar Energy/Aluminium screens/ Passive cooling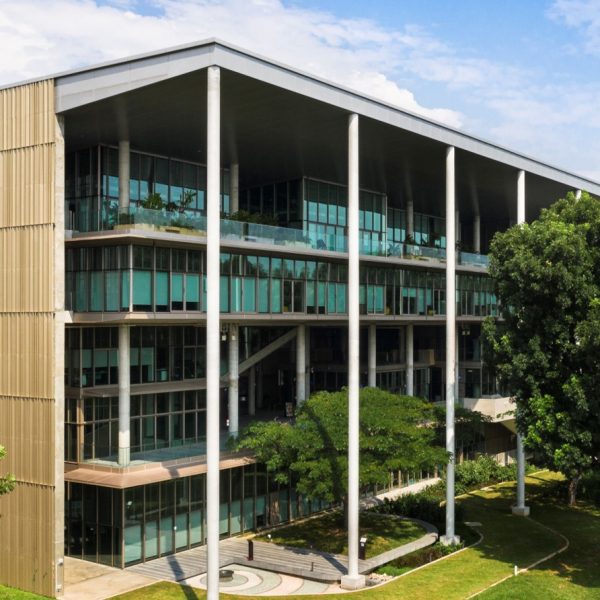 Photo by Building & Construction Authority, Singapore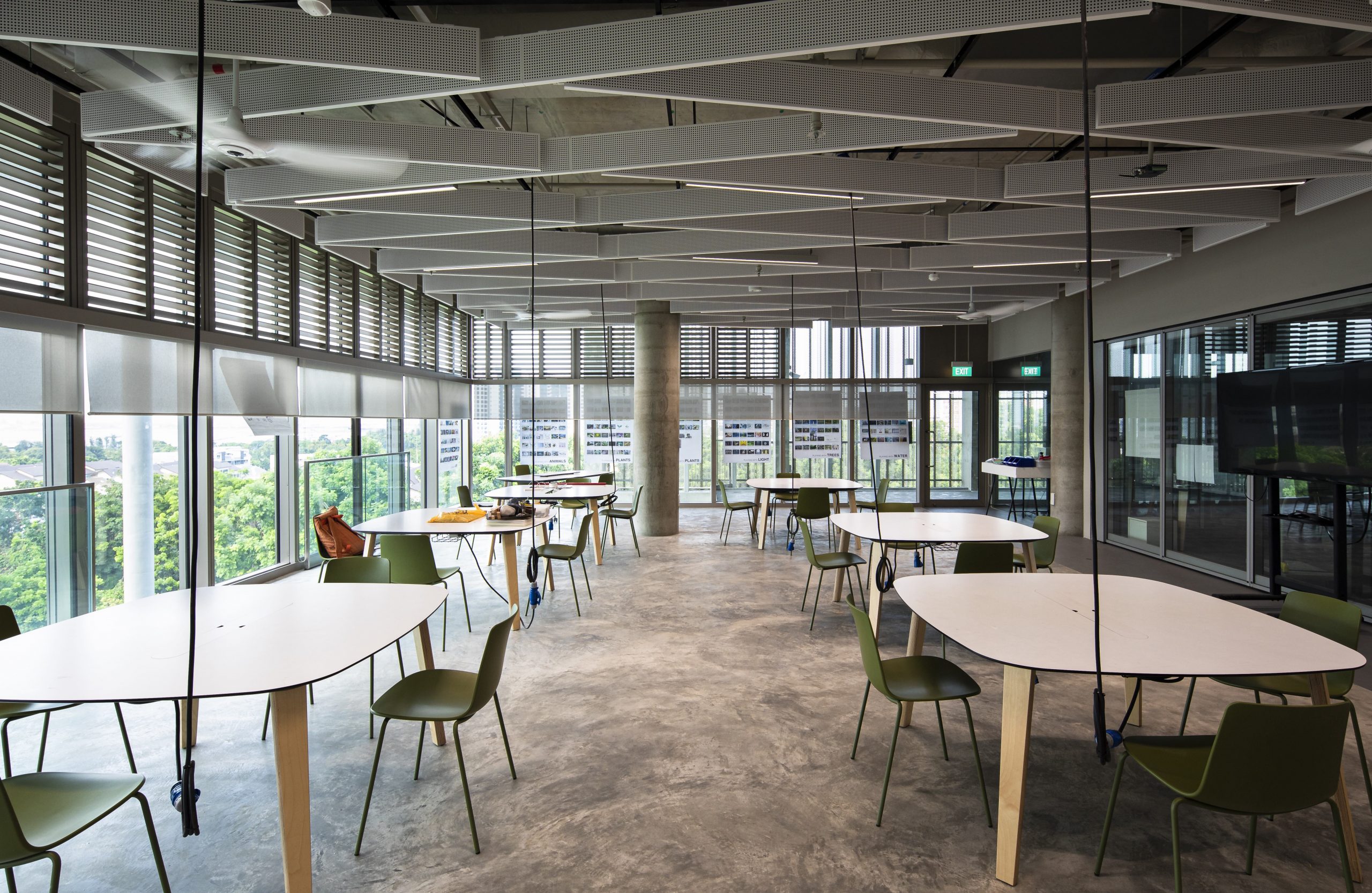 Going Beyond
How can bio-inspired design approaches be combined with conventional best practices to help achieve net positive and regenerative designs?
Visual by Ruiee Dhuri/bioSEA