Biomimicry Exhibit @ National Design Centre Singapore
How can nature inspire us to create buildings that stay cool and comfortable?  
Interested? Head over to the Playground of Possibilities at the National Design Centre, Singapore from 21 September 2023 – 1 January 2024 (Free entry!) to check out bioSEA's display of favourite biomimicry strategies for cooling and thermoregulation.
Curated by Studio BLACK and commissioned by the DesignSingapore Council, bioSEA's biomimicry exhibit comprises of elephant skin-inspired tiles, termite mound-inspired bricks, and beetle-inspired wall panels.
Launched at the Singapore Design Week and inaugurated by the Minister Low Yen Ling,  the exhibit showcases ways in which the city-state of Singapore, already well known for being the Garden City, can think outside the box and cool itself down by nature-inspired building designs.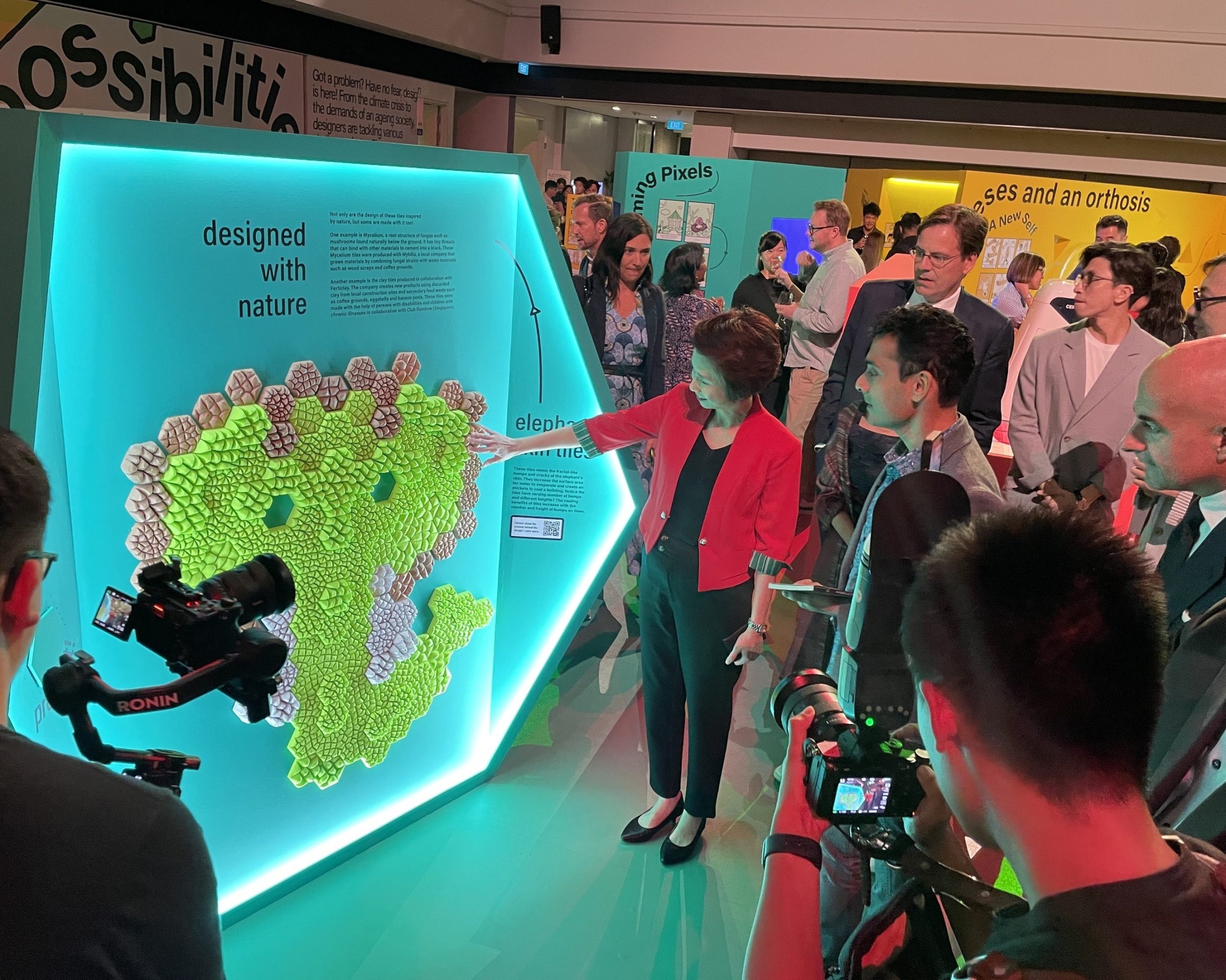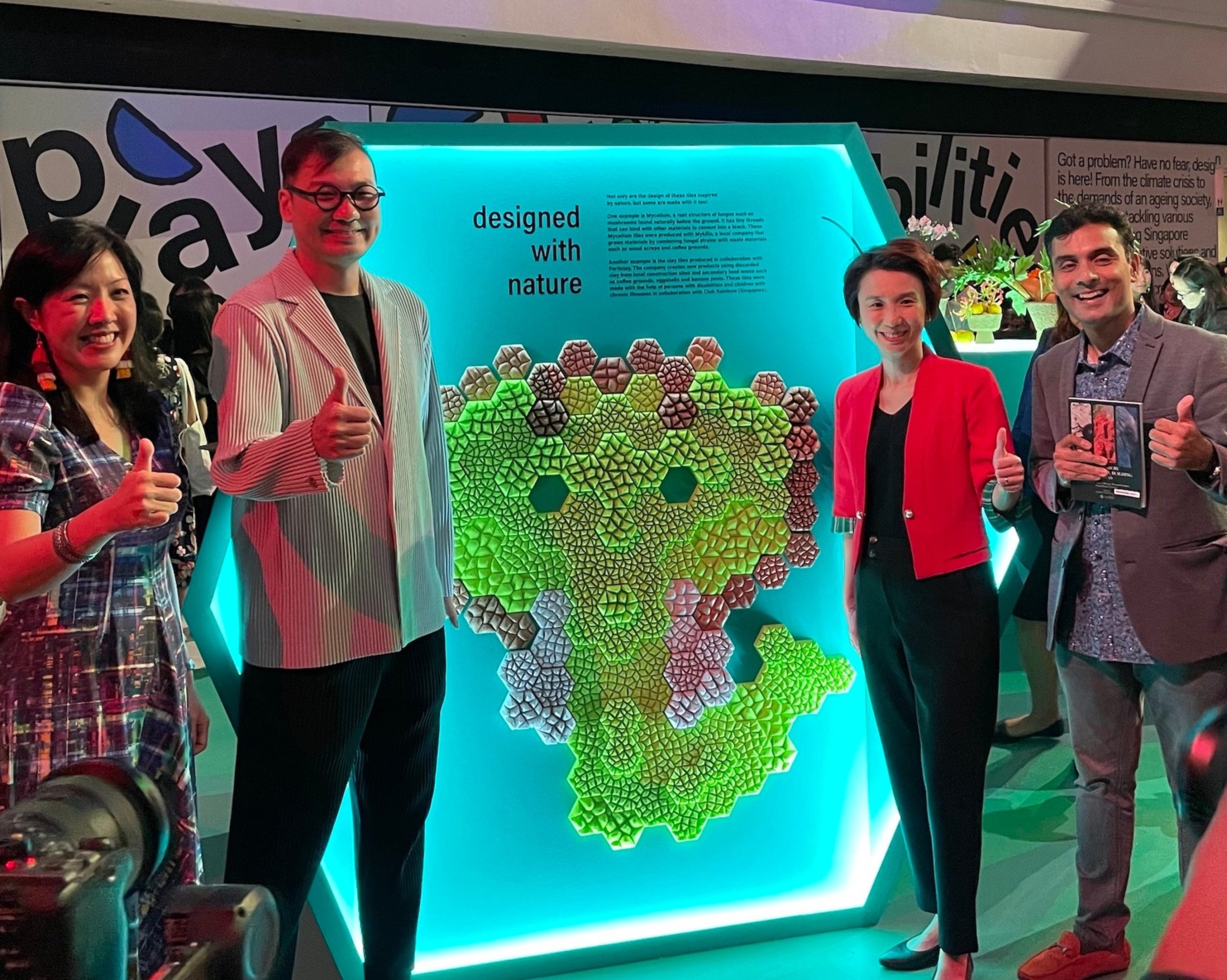 Over the past 2 years, bioSEA team and its consultants have been developing design facades and roofs that perform better in tropical climates using biomimicry, a design approach that learns from how nature operates.
Six months prior, bioSEA launched its biomimicry design toolkit in April 2023. Targeted at architects, designs and professionals of the built environment, the toolkit brought together some of the best ideas and case studies on the topic of thermoregulation relevant to the tropical hot and humid climate. It also gave a preview to bioSEA's façade tiles and brick designs and presented tools for designers to apply design frameworks through featured designs and case studies, explore materials and imagine a biomimetic hybrid façade. Read more and order your copy of the toolkit here.
"When asked to present our biomimicry designs at the National Design Centre, we couldn't be more excited. It is truly an honour to showcase our team's work at the country's most prestigious design venue."  – recalls Dr. Anuj Jain, Director, bioSEA.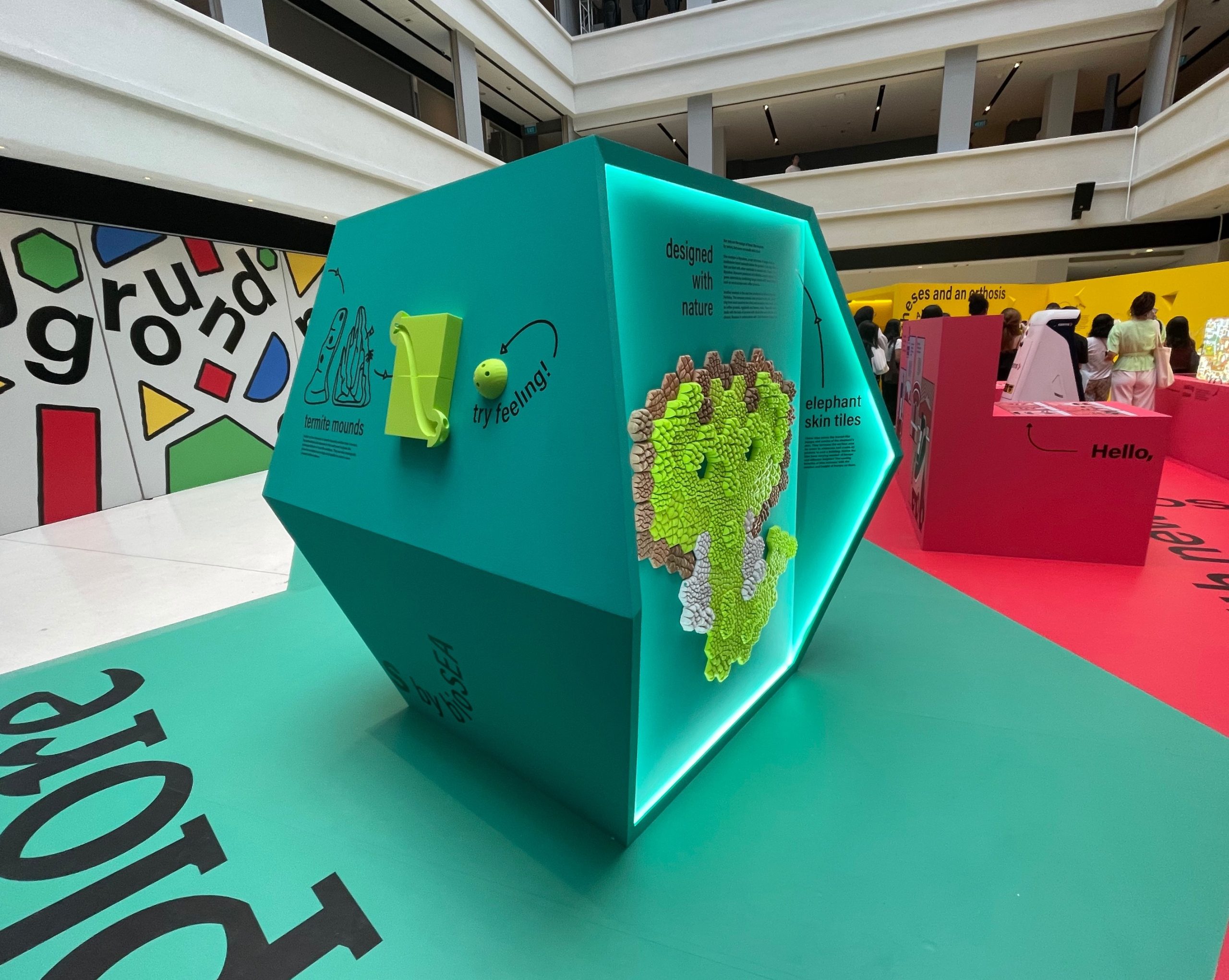 These tiles mimic the fractal-like bumps and cracks of the elephant's skin. They increase the surface area for water to evaporate and create air pockets to cool a building. The tiles have varying number of bumps and different heights.  The cooling benefits of tiles increases with the number and height of bumps on them. These textured tiles can cool building walls significantly more compared with flat tiles.
Not only are the design of these tiles inspired by nature, but some are made with it too!
One example is Mycelium, a root structure of fungus such as mushrooms found naturally below the ground. It has tiny threads that can bind with other materials to cement into a block. These Mycelium tiles were produced with Mykílio, a local company that grows materials by combining fungal strains with waste materials such as wood scraps and coffee grounds.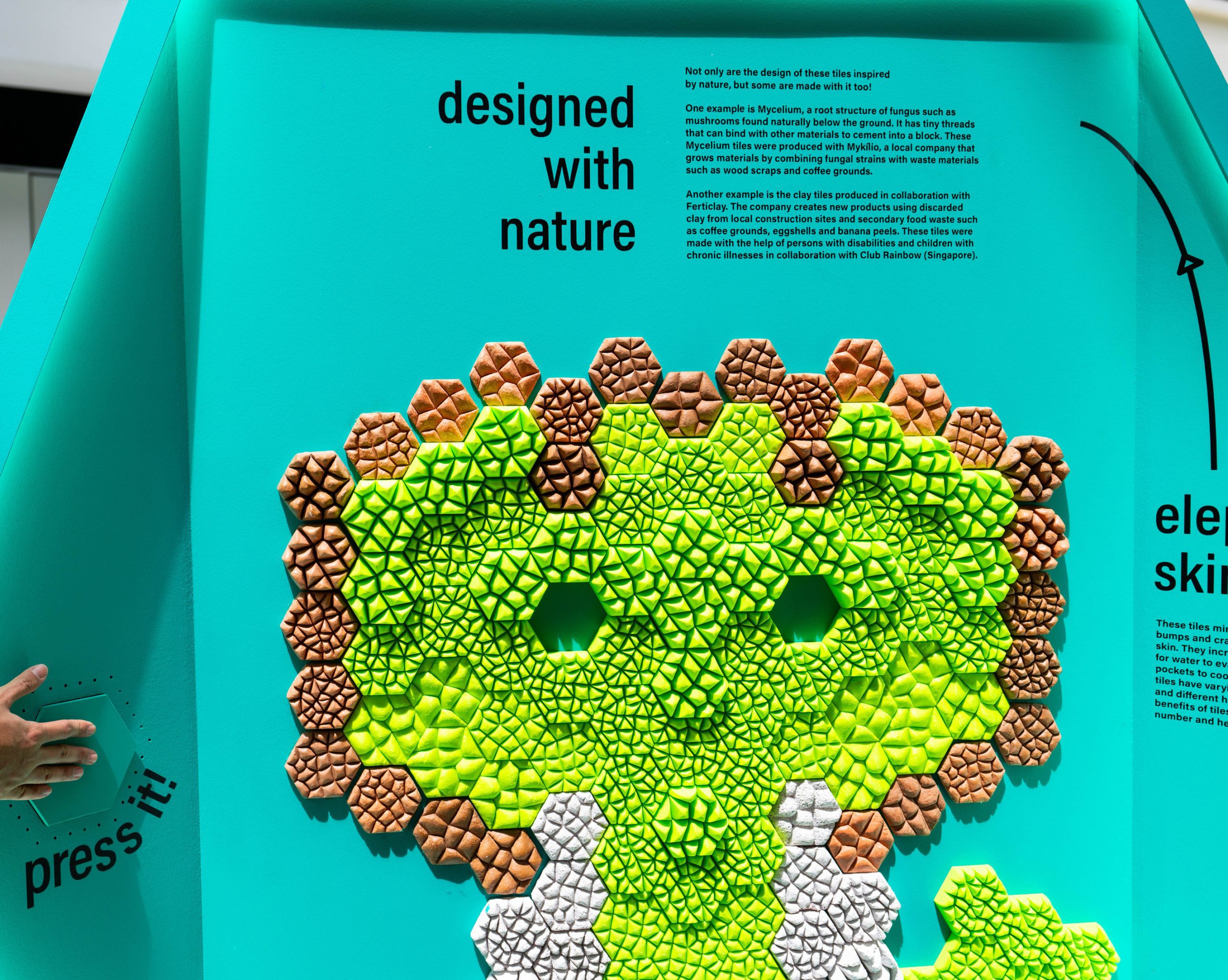 Another example is the clay tiles produced in collaboration with Ferticlay. The company creates new products from discarded clay from local construction sites and secondary food waste such as coffee grounds, eggshells and banana peels. These tiles were made with the help of persons with disabilities and children with chronic illnesses in collaboration with Club Rainbow (Singapore).
Curious about the science behind the design? Learn more at our special video here.
Similar to how channels in termite mounds ventilate their interiors, the perforations and channels in this wall panel increases the exchange of fresh air from the outdoors. They are also strategically placed to modulate low or high wind speeds to create a more pleasant airflow indoors.
This beetle uses its bumpy back surface to collect water from early morning fogs to survive its dry surroundings. A similar design on these tiles help a building stay cool amid rising temperatures.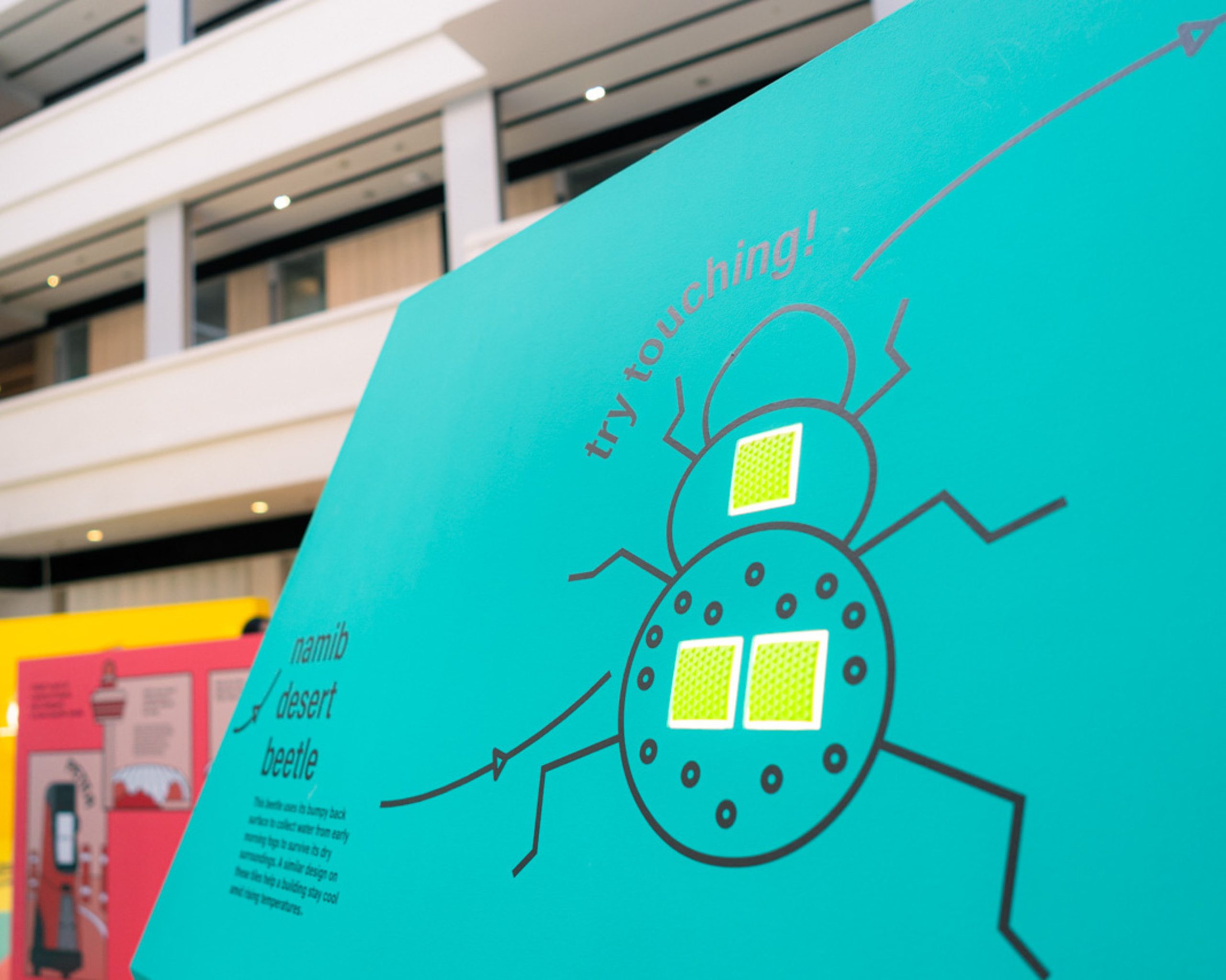 Interested in apply these designs in your projects? Please drop us an email as we'll be happy to explore collaborations.
France24 TV feature – Singapore: The Green City
RiceMedia feature – I Sweat a Lot in Singapore. Can this Design Solution to change things?